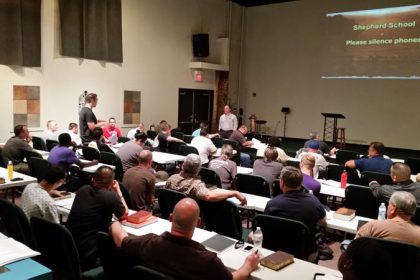 Shepherd School
Pastor/Staff/Church Planting
Men Only
For those who want to be or are a church planter or staff member
This is the right time to train for service



What would happen if you knew God's calling, were trained for it, and had the support base to help you make it happen?
Welcome to CCF Bible College Shepherd School.
This Course Membership has all the benefits of the General Ministry Training course but has much more.  Yes this is only for men because Pastor Scott and the CCF Bible College staff do more personal training here than the other Course Memberships. It also caters to men starting ministries and churches although any man can sign up.
We have a goal to raise up committed leaders who have a serious calling on their lives. Even if you don't know if you are called to be a missionary, pastor, assistant pastor, worship leader, Bible school instructor or any other ministry leader but you have a passion for ministry that just won't go away then this is the Course Membership you want.
We will take you into ministry if you are just beginning.  From knowing your calling to leading in ministry.  If you are already in ministry we will advance your current ministry to a much higher level than you could imagine.  We will help you be competent and qualified.
Pastor Scott Thom has been instrumental in over thirty church plants so he has been training leaders in every area of ministry.  We have a goal to plant one hundred churches in the next twenty years.  We want you to be a part of this exciting college and church movement that is just about to explode.
It is a completely different type of school than you are used to.
The tests are about growing in character not grades.  In fact, you take the tests until you pass and they even help you learn by giving hints. We want to add to your knowledge but we really want to transform your life.  There is a high priority of growing your character as much as your knowledge.  If you follow the process we guarantee it will happen.
We do all this at a very low cost.
Similar programs would cost you between $18,000 to $30,000 a year. Our costs are low because we are revolutionizing how your learn and how colleges work.  You can pay a one time fee or a monthly fee.  After two years, you will continue to have access for as long as the college is here. Take your time or review the lessons over and over till you master them.
No fear.  We will equip you and walk you through the most important principles of ministry.
Reg. $199.00 per month
Your price $129.00 per month for 24 months
 You get so much more in the Two-Year Programs
The two-year programs include many of the individual classes but also include
over 300 additional

studies

from top professors, pastors and Christian thought leaders today. It also gives you access to over

14,000 educational videos

for just about any topic you can think of from kids videos to mission's training.  It is a great bargain.
Included in this Membership
14,000 Training Videos
Discussion Boards
Character Training
Theology
Apologetics
Ethics
Prophecy
Service / Ministry
Inductive Bible Study
Teaching and Preaching
Management and Organization
Blogs
Tel-Conferences
Leadership Conferences (digital)
Church Planting Guide
Q&A Sessions
Video Conferencing
Subscription
per month for 24 total payments