Send someone our way and we will send $600.00 your way. **
Become an Affiliate Partner or a Recruiter for CCFcollege.
Here's how it works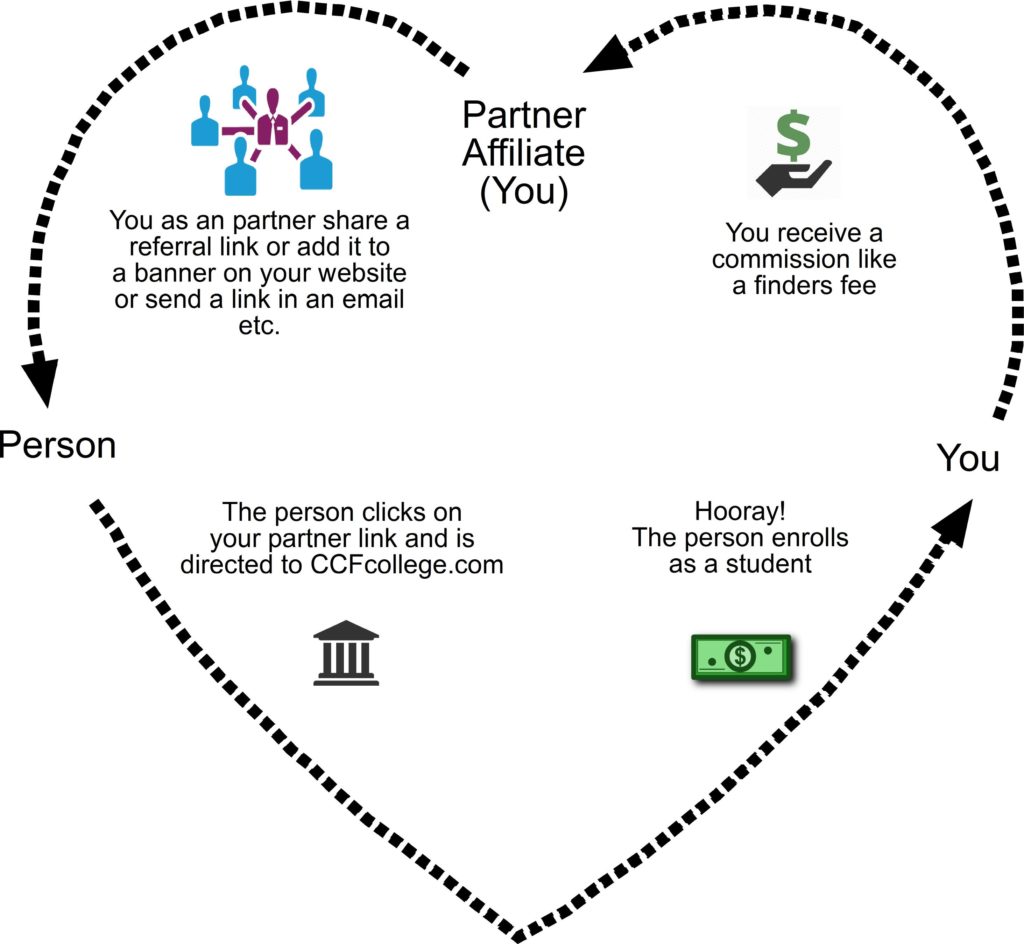 Help us train up leaders and pastors.
We have a goal to plant 100 churches in the next twenty years.
Catch the vision and become a recruiter or an affiliate partner with us.
Become an Affiliate Partner
Affiliate Partners promote CCFcollege.com to potential students.  When they take a class or sign up for a membership course you get paid.
Now, it's easier than ever to earn $600.  For every person you refer to us who enrolls as a Shepherd School student, you will receive $600** to your PayPal account paid out over the course period.
The more people you refer, the more you earn – practically unlimited.
There is nothing to buy, nothing to ship, no stock to keep, and no support to give. It almost sounds too good to be true. It is very easy but it will take a little time.  All you need to do is just share information about CCFcollege.com in your communications and we'll do the rest. Can your put a banner on your website, link in your emails, tag on your commercials, podcasts or shows then you can be an affiliate partner with us.  We will pay you for any student that you send our way. Let us bless you and your ministry as you bless your connections.  Sign up
Become a Recruiter
Recruiters promote the affiliate program to people, ministries, groups, organizations etc. that would be likely Affiliate Partners. When the student takes a class or signs up for a membership course the affiliate partner gets paid and you get paid.
Many colleges and universities have recruiters employed to recruit new students to the school. We too want recruiters but we are doing it slightly different.  We want a small number of recruiters finding organizations or people who have credible influence with people and will partner with us.  We hope to have many people, ministries, para-church ministries, Christian bands, radio stations etc. helping us find ministry minded people who want to receive exceptional instruction at a very low cost. We call these people or organizations our partners who are helped by our recruiters affiliate partners.  The recruiters find and help manage the affiliate partners so they can get the opportunity out to as many people as possible.
For example, a recruiter we'll call Tom talks to a Christian band (potential affiliate partner) about CCFcollege.com.  Tom explains how if the band will talk about the college and put a link on their website then they can get paid for any person who signs up to be a student who found us through that band.  The band then signs up to be an Affiliate Partner.  Tom, the recruiter, helps them follow up with training and shows them how they can email their followers, speak about CCFcollege.com when doing interviews and even share their own testimonial of how CCFcollege.com has blessed them.  By the way, we offer one full scholarship to any active recruiter or affiliate partner.*  We don't want you to recommend something you don't use yourself.  Sign up
Example payout
We pay out as much as $600.00 per student to our Recruiters and another $600.00 to our Affiliate Partners.**  We agree to pay out 25% of any class or program we offer.***  So for every student that enrolls in the two year program and stays enrolled Tom (Recruiter) will receive $600.00 and the band (affiliate partner) will receive $600.00**.  If the affiliate partner recruits 10 students both the affiliate partner and their recruiter will receive $6000.00 each over the next two years.
Why would we pay out half or more of what we are bringing in? 
Well, first off it is because it is not about the money, it is about the vision.  Sure we could make more money but we started the college to build the kingdom of God by training leaders for ministry and planting new churches.  It's our passion.  We can do it faster by this method.
Secondly, we want to impact the world by helping other ministries reach their goals and potential.  Advertising is expensive. We thought it would be better to bless other Christian ministries furthering the Kingdom of God.  It does double duty that way.  We hope something like this will be able to help ministries make ends meet and be more effective.  Think about what could happen if a Christian crisis pregnancy center would be an affiliate partner.  They are helping us train students how to save souls and we help them save unborn lives.  We think it is a win, win, win situation.
We are looking for quality people and organizations with integrity.
You must go through an application and approval process.
Affiliate partners must be able to reach at least 5,000 people through their circle of associates and followers.  We expect them to have some kind of a platform as in a ministry, radio program, podcast, email subscribers, blog readers, etc.
Recruiters must be outgoing and willing to email, call and meet up with potential Affiliate partners.  They must be professional and loving in every aspect of recruitment. They are responsible to follow up and help train the partners on how to maximize the message to their audience.
–
After you register and get approval we will need your full application below
Some restrictions apply
* Must have recruited two full time students in two year program
** For a student in the two year program who stays current and the affiliate stays current